I am working on a project for Awana. Last year Halloween fell on our normal Wednesday meeting night so we had a special Trunk or Treat night for the kids. Halloween falls on a Thursday this year so we will change things up.
The kids will get loads of candy on Halloween so we will give the kids a smaller candy treat of three Hershey kisses inside a 3-D pumpkin. They will also get a glassine bag.
The bag will have an orange marker we got through NAEIR and a two sided card. One side of the card is for the kids to color. The other side has an invitation for the kids to give a friend. If they get a friend to come with them, they will both get a special out of this world treat. I am going to get large Milky Way bars for each of them with a flag on it that says "Genesis 1:1 In the beginning God created the heavens and the earth."
The 3-D pumpkin idea was from my partner in teaching 1st graders at Awana. She had a pattern but I wanted to be able to make it a little larger and to cut it with the Silhouette. I found this
pumpkin with free pdf download
.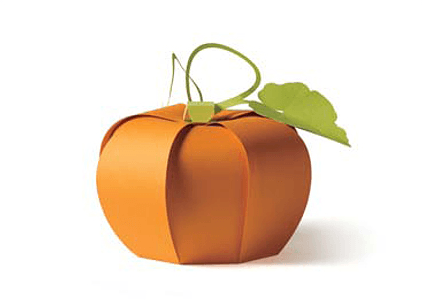 I altered it just a bit in my Silhouette Design Studio to make it large enough to hold 3 Hershey kisses and have holes to threat the twine through the top for tying.
Because I cut them out of 12 x 12 orange and fall colored paper, I had space on the sides that I didn't want to waste. I added "
toothy pumpkin
" by Sarah Bailey in those spaces. I glued the toothy pumpkins on the outside of the glassine bags. You can see a couple of the glassine bags in the photo.
The kids will get to pick a pumpkin treat from a table set up as a pumpkin patch. Each pumpkin was cut from paper on my Silhoutte Cameo. Three Hershey kisses are inside each pumpkin and the top is held together with twine.
If the kids have friends attending Awana they are more likely to come each week. It isn't about numbers. It's about having fun as we learn about God's truth. I pray the Lord will bless our efforts.
The Ladies Missionary Fellowship group will help to put this all together at next month's meeting. I am so grateful for the willing hands on projects like this one.
<^..^> Lori